Emei Mountain offers spectacular views year-round. But the colder season conjures a special allure, as Huang Zhiling discovers in Emei, Sichuan.
Snow is front-page news in Sichuan's provincial capital, Chengdu, which rarely experiences flurries. So, locals were overjoyed when snowflakes appeared in the cityscape in late December. They snapped photos and posted them on social media.
An ancient Chinese belief holds snow heralds bumper harvests.
"It didn't even cover the ground downtown," 79-year-old resident Chao Kang says.
"Yet people went wild because it's not unusual for the city to go a decade without snowfall."
But a snowy and icy mountain looms in balmy Sichuan's heart, 165 kilometers from the capital.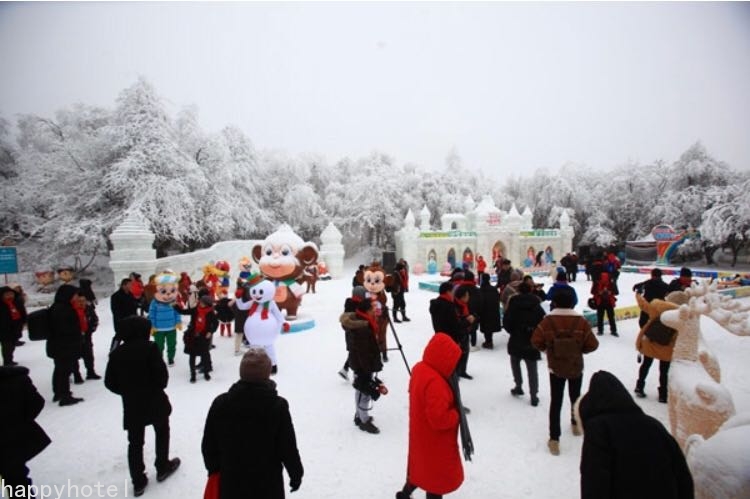 A high-speed train from Chengdu takes about 40 minutes to reach the station near the UNESCO World Heritage site, Emei Mountain. A 10-minute drive then leads to the mountain, one of Chinese Buddhism's four sacred peaks.
The alp is typically covered in snow from December through April.
About 50,000 people visited the mountain's first ice-and-snow festival in 1999. The 19th festival lured 850,000 travelers, says He Qun, a local official in charge of the mountain's marketing.
The 20th festival, titled the 20th Mount Emei Ice, Snow and Hot Spring Festival, began on Dec 28 and runs through February.
Participants can view white landscapes and rime-encrusted trees that look like "ice flowers" while skiing and snowmobiling at Leidongping Ski Ranch high on the peak. They can thaw out at the hot springs in hotels near the foot of the mountain.
The mountain is colloquially known as the "hot spring capital" and hosts geothermal radon and sulfur pools said to offer health benefits.
The mountain's management committee has worked to cater to the 45 percent of visitors who are families with kids.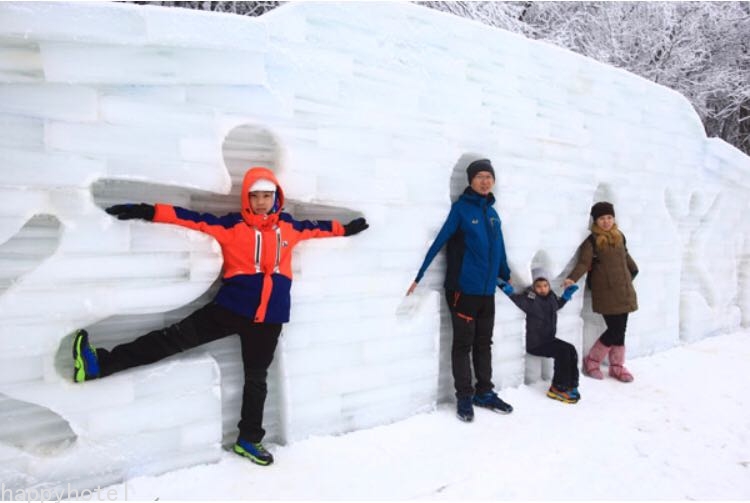 For instance, it has built a 350-meter-long ice slide, believed to be China's longest, committee official Wang Dong says.
Kids play in the snow, explore ice castles and ride bumper cars on ice. Local schools make field trips to the attraction.
The 154-square-kilometer mountain range starts at 500 meters above sea level and surges to 3,099 meters at its apex. So, it hosts a broad array of temperatures.
A saying about Emei goes: "Four seasons exist simultaneously on one mountain."
Its peak is snowy, and flowers bloom at its base in March. It's sweltering at the foot yet cool at the top in summer.
Azaleas paint the landscape red in spring. Summer is verdant with trees and grass. Leaves blast color in fall. And winter, of course, coats the area in white.
Emei Mountain hosts four celebrated views from its Golden Summit: sunrise, sunset, the Sea of Clouds and Buddha's Aureole.
The relatively rare aureole manifests as rings of rainbows created by rarefactions of the mists. They appear to emanate from people's shadows in a cloud bank below the summit on rare afternoons.
Devout Buddhists sometimes leapt off the Cliff of Self-Sacrifice in ancient times. This prompted officials in the Ming (1368-1644) and Qing (1644-1911) dynasties to install fences to prevent suicides.
It takes a full day or two to hike to the peak. But visitors today typically take a cable car much of the way.
They enjoy panoramic views of firs, pines and cedars among cloud-kissing crags. Butterflies and flowers provide flashes of color.
Emei Mountain hosts over 3,200 plant species, 1,600 of which are believed to have medicinal value. Many are endangered, such as dove trees and gingkoes.
The peak also hosts over 2,300 animal varieties, 29 of which enjoy State-level protection, including the giant panda, the lesser panda and monkeys.
Visitors to Emei Mountain in the cold months will discover a winter wonderland. But those who visit during other seasons will discover how the same mountain offers different allures throughout the year.
(The article is reprinted from China Daily, please contact with us if it has any issue.)